I recently told you about my trip to Famous Footwear, and about all the super-cute shoes they carry.  Well, their BOGO sale Just. Got. Better!  Right now, you can snag this Famous Footwear coupon, which takes an additional 15% to 20%* off your BOGO purchase!!!  How cool is that?!?
Just imagine all the fantastic back to school swag you can grab with this: not just shoes; but socks, backpacks, and more!  Hurry over to print this Famous Footwear coupon, and head over to your nearest store today!  But be quick, this coupon is only good through 8-17-13.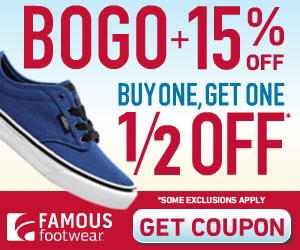 *Rewards members take an extra 20% off. Non-members take 15% off. Print your coupon to shop in-store sale 8/8 – 8/17.

Keep on saving! :o)
--Barbara

**Remember, y'all, this post

may

contain affiliate links. I receive a small amount of compensation when you purchase from my links, which I"ll totally blow on waffle fries and sweet tea, y'all!**